Accountants Need Protection
Professional liability insurance plays a crucial role in the success of any accounting practice by protecting against the costs associated with frivolous lawsuits, disgruntled clients or charges of professional negligence. The protection that a policy provides is well worth the relatively low cost of professional liability insurance
Accountants Professional Liability insurance typically costs about .5% to 1% of a firm's annual revenue. If an accountant gets sued, attorney's fees and expenses could cost over $100,000 just to get a frivolous lawsuit dismissed. These costs will come out of the accountants own pockets if they don't carry professional liability insurance. Without coverage, in just a few days the financial losses could be much greater than the cost of accountants professional liability premium.
Average Cost of Accountants Professional Liability Insurance
The average cost of accountants professional liability insurance can range anywhere from $400-$6,000 a year based on a variety of factors. The number of accountants with the firm, claims history, areas or practice and annual revenue all impact premiums. With Protexure Accountants, an accounting firm with an annual revenue of $200,000 can expect accountants professional liability insurance to cost around $1,000 annually.
It is important to keep in mind that the cost of accountants professional liability insurance can vary widely from one accountant to another. While there is industry data that can assist you with determining where you might fall on the premium spectrum, the only true way to know what accountants professional liability insurance will cost you, is by receiving a quote.
How is Professional Liability Cost Determined?
Many factors influence the premium charge for professional liability insurance coverage. To establish the price of professional liability covers, insurance companies evaluate their loss experience to determine practice areas that impact the frequency and severity of losses. A firm's loss history and the length of time they have continuously been insured will affect premium pricing. Premium pricing varies due to the following factors:
Claims History

Firms with claims on file should expect to pay more than a firm that has been claims free. Firms that have had no claims on file are viewed favorably by the insurance company and are more likely to receive discounts.

Annual Revenue

As annual revenue goes up, so does insurance premium. With more business coming through the door, there are more opportunities for a claim.

Length of Time The Firm Has Maintained Coverage

Due to the industry wide practice of step ratings, premium is less when a firm initially obtains insurance, and increases gradually over the years. Once a firm is considered mature, the premium will level out to a consistent rate after about 5 to 7 years.

Practice Location

Where a practice is located can affect the cost of coverage. Locations that typically see higher claims activity tend to have higher premiums.

Coverage Limits and Deductible

The limits of liability and deductible chosen for a professional liability policy has a significant influence on premium. More insurance means a higher premium.

Practice Management

One of the most effective ways to save on accountants professional liability insurance premium is by implementing the proper practice management protocols to mitigate the potential for a claim.
Are You Paying Too Much for Malpractice Insurance?
Affordable Professional Liability Insurance For Small Accounting Firms
Small accounting firms and individual accountants do not have the same insurance needs as the larger firms. The risks and types of claims are much different, requiring alternative and specific coverage needs.
The insurance experts at Protexure Accountants have the affordable accountants professional liability insurance you and your small firm need. Make sure you are protected from potentially harmful cases that could harm your practice, and your business.
Protexure Accountants has a team of specialists who focus on the unique liability protection you need, which help keep costs competitive. Trained, licensed, and experienced insurance professionals are will partner with you to make sure you are getting exactly the affordable accounting professional liability insurance you need, and nothing more.
Why are Protexure's Rates Competitive?
There is no catch. Accountant malpractice insurance rates are typically determined by the loss experience of policyholders insured by an insurance company. Our program is designed to meet the needs of solo practitioners and small accounting firms. Rates remain competitive because our underwriting philosophy excludes large firms with higher risk and greater claims volatility. Those savings are passed along to you, the policy holder.
Our goal is to provide small accounting firms the professional liability insurance they need. The Protexure Accountants program is designed with small firms in mind, coverage additions and changes are made regularly to serve the ever changing needs of the small accounting firm.
Focused on serving the unique needs of small accounting firms with comprehensive accountant insurance
Streamlined process, shorter forms, easy renewal
24/7 internet access to apply for or renew coverage
On call licensed professional liability specialists
Protexure Accountants Makes Receiving and Maintaining Comprehensive Protection Simple and Affordable.
Average Cost of Professional Liability Insurance by Revenue for Accountants
One of the primary factors in determining premium is the revenue accountants bring into their practice. As the amount of business the firm does goes up, so does the firm's risk. To the right, the average premium for small accounting firms selecting $500,000/$500,000 limits of liability is broken down by yearly revenue.
Of course, premium is also influenced by the "amount" of insurance that is purchased. Before selecting limits of liability, it is important to carefully evaluate how much coverage you and your firm needs. A professional liability specialist at Protexure can assist you in picking the appropriate limits for your firm.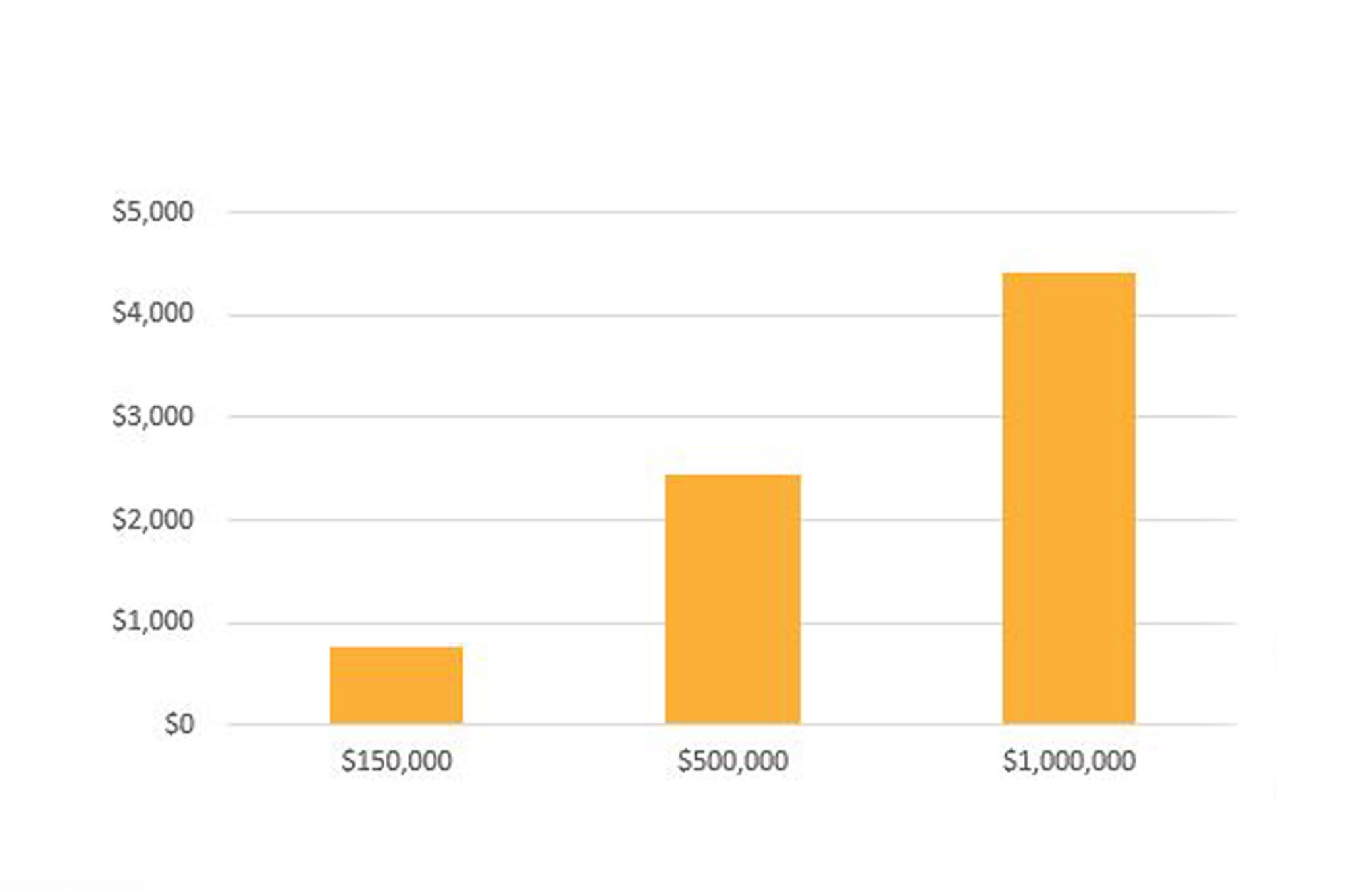 What do Small to Mid-size Accounting Firms Pay Per Year with Protexure?
By only insuring small to mid sized accounting firms, Protexure Accountants is able to keep their premium prices low and affordable. Over 50% of Protexure insureds pay less than $1000 in premium each year.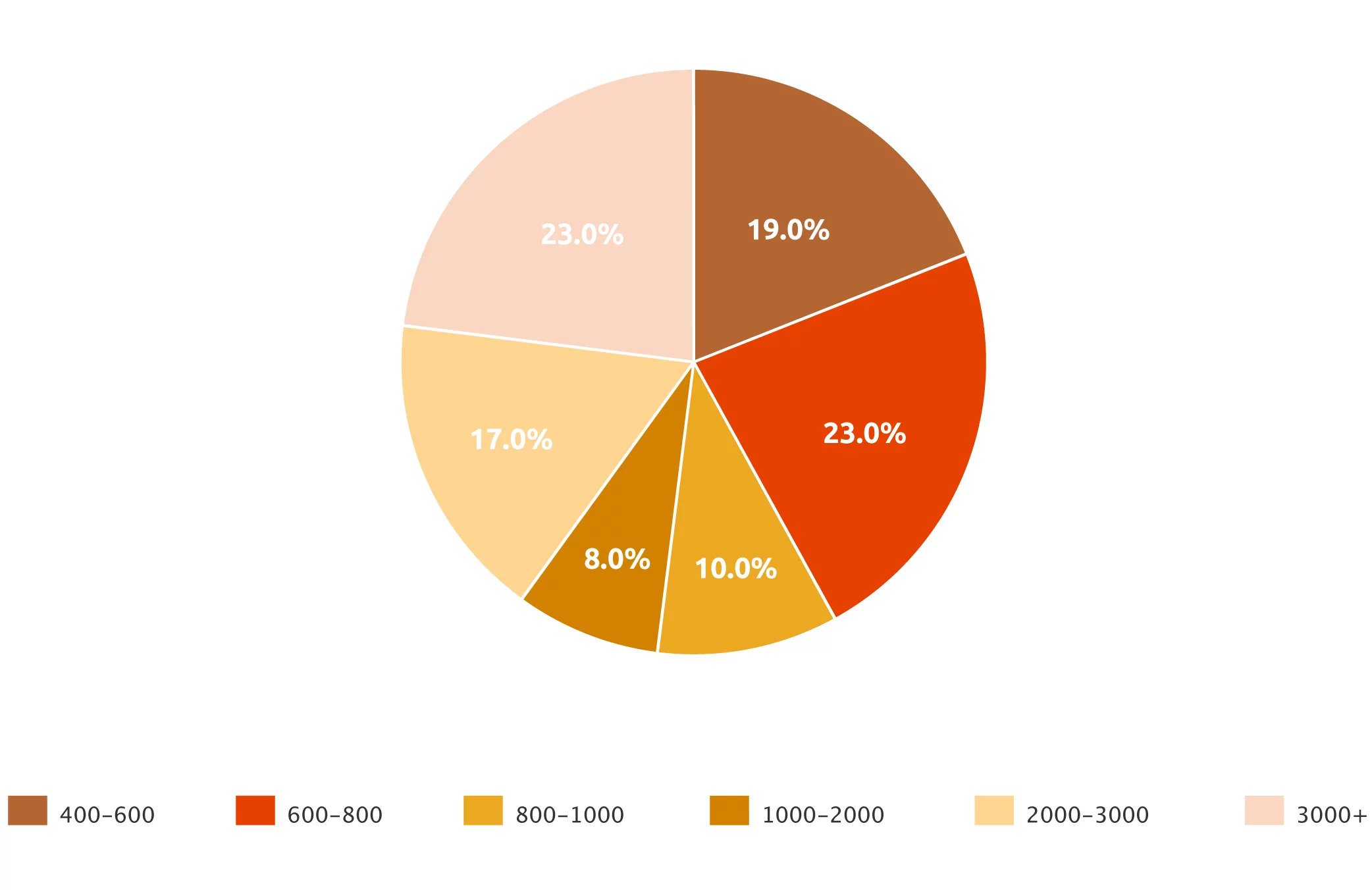 Customer Satisfaction Is Important To Us
Our team of licensed professional liability specialists are on hand to answer your questions.
Contact Us